Promotions for Writers:
Let us help promote your writings. Books, eBooks, Tracts or Pamphlets. We have many ways to help sell your writing to the world. Just check out the different promotion offers below and you can call and ask for more info or you can actually order them right from this page. Many ways below to promote your writing and let the world know what you have to offer. We have many offers below and in the easy range of any authors budget. Starting as low as $5 a year.
Sell your existing Book or eBook here on our website:
We can add your exiting book or eBook to our Book Shop here on our website and design your own authors page and you can sell your writing here with our other authors. We can sell your books for you or we can add your own PayPal shopping cart to your authors page and you sell directly to the buyer. With this package we will build your own Authors Page with your picture, bio and book synopsis and order button, and add your book to our store page with a link to your author page for $69.95.
Add your book to our book store & build your own author's page on our website
$69.95
Promote your writing with ads and more on our other websites:
We own 8 websites and we offer advertising on each of these sites. Three of the sites are Christian directories and we can add text ads, banner ads and video promos to each of these website. Here are our three Christian Directories: The Christian Link, My Christian Website Directory and Independent Christian Media Network.
Here are just a few of the ways you can advertise your writings to the world on one or all of our Christian Website Directories.
A text link on our sites takes them to where people can buy your book. We have rates of $5 a year for one category page. $15 a year for four category pages. $25 a year for ten category pages. If you choose the four or ten package you can mix the links to pages on two or all three Christian Directories. Here is a list of the categories for the first 2 directories above. Email me for a list of categories on the Independent Christian Media Network. We also offer text links on the home page of any or all the three Christian directories above. These home page text links are between $50 to $100 a year per directory or all three for $150. Email us for more info.
Text Link in One Category
$5 a year
Text Link in four Categories
$15 a year
Text Link in Ten Categories
$25 a year
We can also produce a banner ad to promote your writing and place it on one or more category pages of our directories.
If you have a banner ad we can use that. 300 Pixels X 175 Pixels Max. Or we can produce a custom Animated Banner ad like this one below
for $24.95. (Reg. price $35.)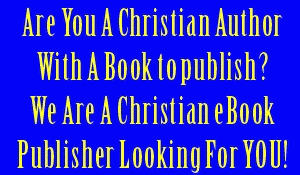 Custom Banner
Ad Design
$24.95 a year
(Reg. $35.00)
Banner Ad on Top of
One Category Page
$69.95 a year
(Reg. $99.95)
Banner Ad in Body of One Category Page
$24.95 a year
(Reg. $49.95)
Banner Ad in Body of
Four Category Pages
$94.95 a year
(Reg. $189.95)

If you have more questions just contact us and we will be happy to answer your questions.
Note: Please do not send queries, synopsis or manuscripts through the postal mail. Email them to us for faster response.

Terry Whitsitt: Owner / Publisher
Christian Writer's eBook
P. O. Box 446
Fort Duchesne, UT 84026
Phone: 435-722-3429
Toll Free: 800-627-5937
Text: 435-401-0529
Editor@writersebook.com
We are a full service company. Which means we can do it all for you & your writing.

Publish your eBook
Design your authors page on our website
Design and host your own custom website to promote and sell your writing
Produce a custom book trailer promotional video featuring your eBook
Post your custom book trailer video on YouTube and other video portals.

Christian Website Design & Hosting
Over 20 years of trusted service. We offer Website Design, Hosting, Site Promotion & more at
the lowest rates around & toll free USA tech support. 800-627-5937 or 435-722-3429
Text: "DISCOUNT-EB "to 435-722-3429 for your free $25. OFF discount code.
Your Trusted Christian Web Source - WebTech Design Group
---