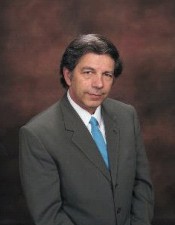 Thomas Faulkner
Thomas Faulknerís Biography
Tom Faulkner was raised in upstate New York, and for years his parents tried to get him interested in reading. It was not until a certain television show was on the air, and books were written of the show, that he finally got interested in reading, and hasnít stopped since. Being raised in the Catholic Church, he always had a belief in God, but knew very little about His Word.
It wasnít until his aunt and uncle took him to a church where the Word was expounded and the invitation was given to receive Christ as Saviour. But it wasnít until his grandfatherís funeral where he accepted Christ as Saviour, and shortly after bought his first Bible.
He has been reading and studying the Bible since, and thanks the Lord Jesus for salvation and being set free from uncertainty and doubt.
Tom Faulkner is now the assistant Pastor of Grace Bible Fellowship in Bergen, New York.

Christian Writers E-book Net, is proud to have
Thomas Faulkner as one of our authors. We are
also glad to be the publisher of his first E-book

Mariology From a Historical
and Biblical Perspective
Video Promo

This title is available and ready for deliver to you
by E-mail: $4.98 To place your order, return to
the shopping page.
A SHORT SYNOPSIS OF Mariology from a
Historical and Biblical Perspective
What is Mariology, and what are the beliefs of this doctrine?
In Mariology from a Historical and Biblical Perspective, you will see the formation of Mariology, and the growth of it through the years. What role tradition has in Mariology, the rosary, and was Mary a perpetual virgin. Is she the queen of heaven, and mother of God.
You will also learn whether this is Biblically sound, and how it compares to the truth of Godís Word.