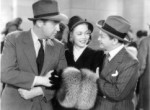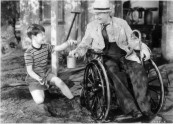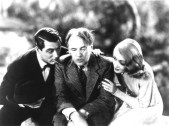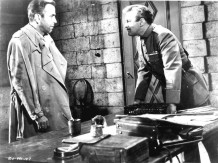 Larceny Inc.)
Starring Edward G. Robinson and Jane Wyman
Running Time: 1 Hr 35 Min. (black and white)
Release Date: 1942
Rated: Not Rated
Director: Lloyd Bacon
Genre: Comedy
Starring: Edward G. Robinson, Jane Wyman, Broderick Crawford, Edward Brophy.
Review by: Terry Whitsitt
The Classic Movie Corner Rating:

Three ex-cons pretend to go straight, and buy a luggage shop. However, their true plan is to tunnel into the bank vault, located on the other side of their basement wall. Their one problem is they keep getting interrupted by people coming into the store. "Pressure" Maxwell (Edward G. Robinson) is the brains behind the gang, and decides to put a stop to the interruptions by the customers. Nevertheless, the customers keep coming. Maxwell's niece, Denny Costello (Jane Wyman) is pleased her uncle's new business is starting off so well. Maxwell has Jug Martin (Broderick Crawford), run the store upstairs, while he and Weepy Davis (Edward Brophy) his "partner" work on the bank wall in the basement.
In spite of everything they try to keep customers away, the shop prospers and they soon discover, "the sweetest racket of all: capitalism." They quickly decide to forget about the bank and go straight. Their new honesty soon finds a snag when Leo Dexter (Anthony Quinn) breaks out of prison, after he learns they were pulling the bank job that he had been planning for himself.
Larceny, Inc. is based on a play by: Laura & S.J. Perelman, and is a excellent film in which Edward G. Robinson gives us a comedic look at the classic gangster roles he played for so many years. The cast is excellent and includes some people just beginning their careers in small parts. Look for Hobart, the lunch counter man, played by "The Great One," Jackie Gleason. If you look fast you can also see Mr. McCarthy's secretary, played by Grace Stafford. You may not recognize her face, but her husband, Walter Lantz chose her voice in an open audition to be the voice of his new cartoon creation Wood Woodpecker. A part she played for 30 years.